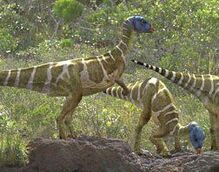 Othnielia
("
Othniel's Dinosaurs
") was a genus of "hypsilophodont" dinosaur, named after its original describer, Professor Othniel Charles Marsh, an American paleontologist of the 19th century. It lived 185-145 MYA during the
Jurassic
Period.
Time/Era/Period
Edit
Othnielia lived during the Late Jurassic period from 185-145 million years ago.
Size/Description
Edit
Othnielia was two meters long and relied on living in groups, its speed, and staying close to larger animals for protection.
They often stick with larger animals for protection. They feed on the smashed cycad larger animals like Stegosaurus and sauropods leave behind, which means they stick very close to them. Too close for a small predator to get in between and attack.